The Sunnyclist Islander turns the idea of a solar bike into reality! The completely ecological and free vehicle is finally taking shape, offering comfort and safety in urban commuting and beyond. The Sunnyclist Islander provides the opportunity not only to travel the world but also to move around the city without plugging in. It has a 150W photovoltaic roof that charges the 15Ah 48V battery in less than a sunny day.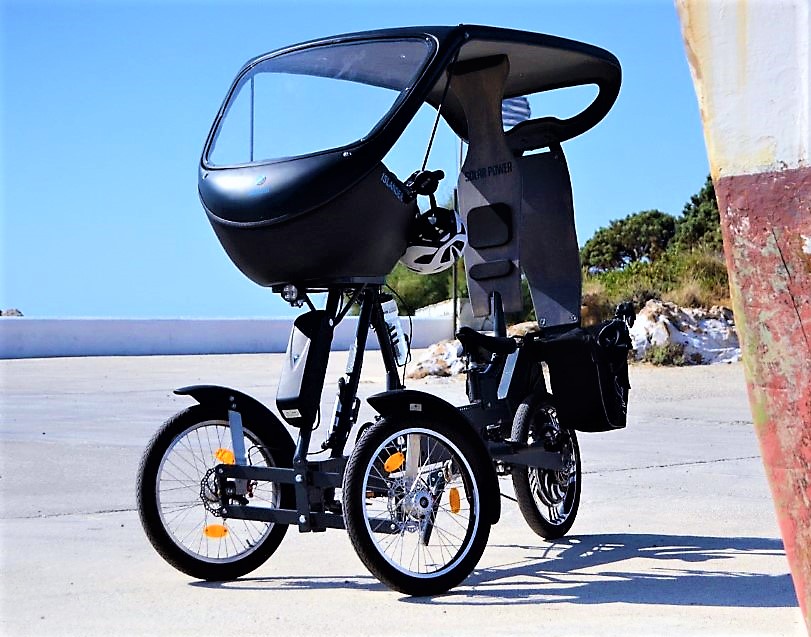 VAT-inclusive price: 3.250,00 €
Transport costs are not included in the price. Contact us for availability.
---
The "Islander" or if you prefer the "Nisiotis" maintains the feeling and driving experience a bicycle provides, as it leans in the turns while the riding position is adjustable and ergonomically designed for continuous pedaling. Cyclist model geometry is also maintained, exactly as a bicycle does, while the seat back provides support so that the cyclist feels comfortable regardless of the force exerted on the pedal.
When it comes to the solar roof, it has a weather-resistant design. The sturdy low frame offers easy access, while the front trunk holds up to a large school bag and locks to keep your belongings safe.
---
Rout calculator
The user can download the travel calculator app for android devices, which collects data from the weather forecast (sunshine) and is specially configured for Sunnyclist to accurately predict the energy status of the vehicle during the journey.
---
Bicycle version
Frame: Aluminium alloy 6063
Battery: Lithium Ion 48V 15AH
motor type: Hub motor
Motor power: 250W
Assistance: Yes (pedal sensor)
Maximum speed: 25 km/h
Photovoltaic generator: Flexible 150W
Wheel size: 20″
Tilting System: Yes
Luggage space: Front trunk, rear rack and backpacks
Steering wheel lock: Yes
Lights: Front – Rear / Led control from the steering wheel
Horn: Yes
Number of people: 1+1
Handbrake: Yes
Tilt Lock: Yes
Additional stand for parking inclined to the sun: Yes
Route calculator app: Yes
---
L1e-A Category
In the L1e-A category version (motorized bicycle), the engine power reaches 1000W while the top speed is maintained at 25km/h. No driver's license or registration required.
Off Road Edition In the version for use outside public roads, the engine power reaches 1000W and the top speed 45km/h.